The summers in Arizona are notorious for high temperatures and heat which is hard to bear. That's why the residents of Gilbert have long been aware of the huge importance of air conditioning systems, particularly during the summer. Both homeowners and business owners who care about the commercial AC systems need to be prepared for any eventuality and prepare for malfunctions or even breakdowns. When a system is set up properly, AC failure is not a common occurrence, but it still can happen.
Still, in case something happens, don't sweat it – remember that Hughes Air is here for you. With Hughes Air, you have a trustworthy air heating and cooling professional serving the greater Gilbert, AZ area! And remember we also provide air conditioning repair for Scottsdale, air conditioning Tempe, home and business owners, as well as in other neighboring cities.
Licensed, bonded, insured AC Repair Company
Hughes Air Conditioning Heating & Cooling is the AC service provider favored by Gilbert residents, as well as the surrounding areas who rely on us for all their air conditioning and other HVAC needs.
The HVAC installation and repair team at Hughes Air is made out of seasoned professionals who make sure to be up to date with all the latest changes and trends in air conditioning and cooling industry. All of our technicians are licensed, bonded and insured HVAC contractors with an outstanding track record in doing air conditioning repairing Arizona, installations, and maintenance.
When it comes to our HVAC repair and installation team, there's no job too big or too small. We have 30-year-strong experience and the know-how for handling any repair work quickly and efficiently, anywhere in Mesa, Chandler and elsewhere in Arizona. One thing we particularly make sure to do is to schedule our visits at the time that is most convenient for you, our customer. It is our goal to respect your time and needs and put you first.
Quality workmanship is our #1 priority
At Hughes Air Heating and Cooling, our biggest priority, and the greatest pride is the quality of our service and the knowledgeability of our contractors. We make no difference between big or small, cheap or expensive repair or maintenance jobs. The goal to repair your AC quickly, effectively and conveniently is always the most important one. The members of our team are skilled and experienced enough to be able to tackle any issue you may have with your residential or commercial air conditioning system, whether we are talking about a minor repair or a complete overhaul of the entire system.
Want to know when you should look for the services of Gilbert's premier AC services? Consider the following scenarios.
Is your AC inefficient at cooling your home or offices?
Have you noticed the AC making a strange noise?
Are there any leaks?
If you've noticed any of these, or any other changes in your AC, there is probably something wrong with your AC system. Whatever the signs, don't hesitate to call in trained and qualified technicians – we arrive at your premises promptly, examine the air conditioning system for visible and covert signs of damage, and perform the repairs on the spot. Generally, the longer you wait to address the problem, the more serious it can get, and therefore can become more expensive to repair.
In order to offer our customers the very best experience and expertise, we have decided to specialize in Trane AC repair and installation. In this way, you can be sure that our technicians are skilled and fully capable to tackle any issue that arises with these devices. Trane itself has often been named ''America's Most Reliable™ HVAC System'' – and not without reason. These systems are extremely reliable and durable – no AC product from this company ever reaches the customer without previously passing stringent quality and durability tests. These high-end and cutting-edge AC systems require truly skilled and devoted mechanics and technicians to set up and maintain – something our team at Hughes Air excels at. And that's not just us saying it, Hughes Air is an award-winning Trane dealer, which is praise bestowed only on the best and most reliable Trane partners. This accolade is the testimony to our excellence and experience.
However, if you have any other brand of AC, don't get discouraged. We are equally equipped and skilled at handling any other brand of AC in your home or business.
What truly separates us from the competition is that we are willing not only to repair your AC system, but also to give you some helpful advice on maintenance, so that you hopefully don't run into any more problems, all the while boosting your home's and AC's cost-efficiency and saving money on your electricity bill each month.
Convenient and cost-effective maintenance agreements
If you really want to properly care for your AC system, you need to take into account regular HVAC system maintenance. Our experts have come up with a comprehensive maintenance plan which covers everything you need to keep your AC up to date. If you opt for a maintenance agreement with us, you can rest assured that everything will be handled for you. You can stop thinking about whether your AC inspection is due soon – we will remind you well ahead of time and schedule your HVAC check up whenever it suits you best. Aside from Gilbert, AZ, our air conditioning service is available in Tempe, Mesa AC, AC Paradise Valley and other cities close by.
Your AC unit is one of the most important appliances in your home, particularly in the summer. That's why we always encourage our customers to be proactive and careful when it comes to the usage and maintenance of this appliance. We take great pride and we guarantee for our work and repair services, but prevention is always better than the cure. Make sure to note any suspicious changes in your AC functionality. Reach out to our Comfort Specialists if you need more information or if you want to schedule an appointment. The experienced and skilled team of AC technicians will be there to handle any issue you may have, big or small.
Air Conditioning System Troubleshooting Tips
AC Maintenance Checklist
As soon as the hot summer days start, homeowners all throughout Tempe, AZ start cranking up their air conditioners hoping to get that cool, comforting air. But what happens when your air conditioner lets you down at the worst possible time?
To prevent this from happening, you need to make sure your air conditioner is kept maintained throughout the year and not when it's too late. This is guaranteed to keep your air conditioner unit repair needs to a minimum, as all the components will be regularly inspected and kept in shape.
Common AC Problems And Solutions
In the heat of the summer, the last thing you want is to be left without a functioning AC, especially in Gilbert, AZ and the surrounding areas. Simply put, your AC is indispensable in the summer heat. Finding a qualified and skilled AC repair company which can handle any problem can be paramount to ensure your comfort in your home, or the office during the summer.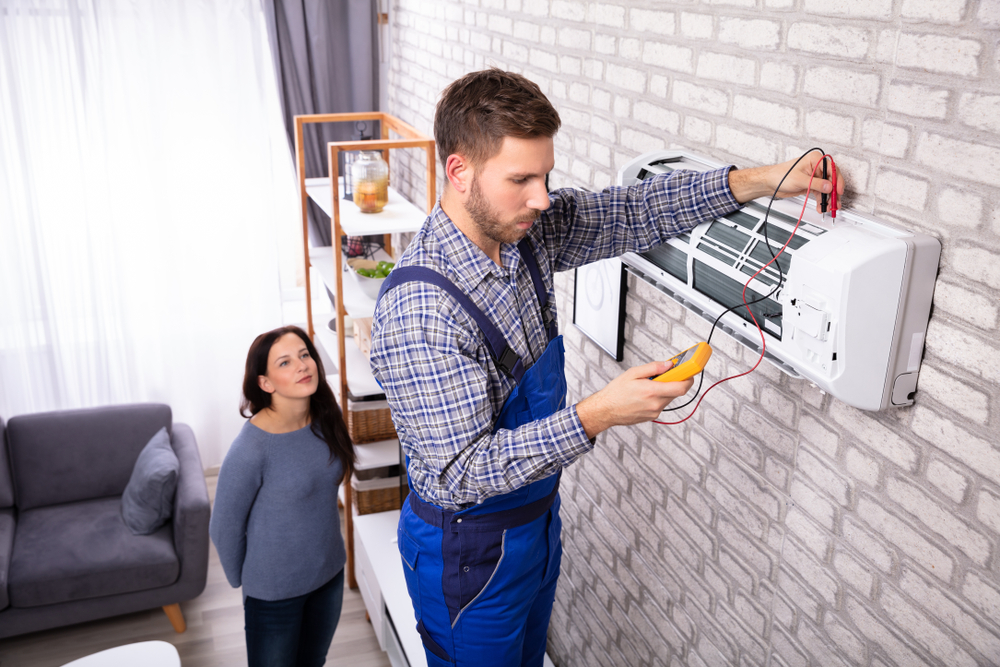 If you notice any changes or problems with your AC, you should consult an AC expert. However, before you call them, it would be wise to know what the possible sources of your problem are. That's why we at Hughes Air compiled a list of the most common problems which home air conditioning service have to deal with during emergency calls.
Troubleshooting AC Unit Not Turning On
More often than not, our emergency HVAC technicians receive a phone call which simply says 'Help, my AC doesn't work.' However, vague this statement is, our technicians know that it could potentially be a really complex and serious issue.
On the other hand, it could be as simple as a circuit breaker being tripped. So, make sure you check that before you have a technician come over. If that is not the issue, it is best to leave the problem to the professionals.
Your AC Turns On, But Doesn't Cool
Another very common occurrence is that the AC does, in fact, turn on, but it simply isn't cooling your home to a temperature it is set to do. Sadly, there is no one universal solution to this problem. However, here are the most common sources of this problem.
Low refrigerant levels are the most likely culprit. Refrigerant is a fluid which is responsible for the heat transfer at the core of the AC. It is in a closed system, but after a while, it is possible that some amount of refrigerant evaporates. If there isn't enough of it, the AC cannot be as effective. You will typically notice a slow decline in the functionality. However, if the shift is abrupt, it is possible that there is a leak somewhere in the system.
However, if your air conditioning unit doesn't work well right after it was installed or repaired, chances are that the job was poorly done. Alternatively, some wiring or thermostat problems can also manifest as poor AC performance. Learning how to clean air conditioner evaporator coils can also resolve some issues if there is a lot of debris and dust in your outdoor unit.
How to Find Good Air Conditioning Repair Gilbert Homeowners Trust?
Seeing how important AC units are to people in Arizona, it is no wonder there are numerous AC maintenance companies in Gilbert and surrounding areas. However, how can you tell the good ones from the bad ones?
When your AC fails, you want the repair done quickly and you want it done well, nobody wants to be stuck in the middle of the summer without an AC. Here's how to look for an HVAC repair company.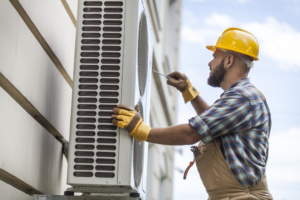 Ask for Recommendations
Word of mouth is the original marketing avenue; simply put, if you were good, people talked about you and you got more business. And even though the world has evolved a lot since those early days, recommendations from satisfied customers are still one of the most trusted ways people learn about new businesses.
Research the Companies Before You Hire Them
When you have an emergency, you want the issue resolved quickly, and you may not have enough time to go into too much detail about the companies you want to hire. However, ask yourself a few basic questions.
How long has the company been in business?
Are they part-time or full-time contractors?
Do they have particular expertise?
Are they experienced with your particular AC system?
Are they experienced with your particular AC system?
Are they experienced with your particular AC system?
Do they have a standing deal with an AC manufacturer?
These questions might help you resolve the issue of hiring only the best heating and air conditioning companies.