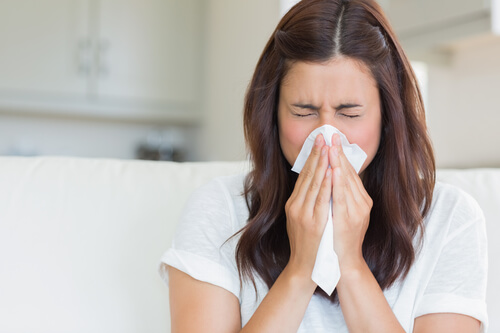 If you live in Mesa, AZ, you know the feeling. You are instantly relieved just thinking of that cool indoor breeze when you return home on a sweltering hot Arizona day and are just about to  turn on the air-conditioner, but here's what must be worrying you:
How will it affect your or your family's allergies?
Whether you already suffer from allergies or worry that you might develop them, a neglected AC might be the Trojan horse to lead them straight to you. Worry not, since we have some handy tips in store for you to help you use your AC in a carefree manner.
Moderation is Everything
The moment you step into your home from that blistering heat, you want that AC running. But wait, allow your body to cool down naturally for several minutes before switching it on. Also, if you set the temperature too low, it might irritate your sinuses and aggravate your allergy as the air will grow less humid as well.
On the other hand, moderate and proper usage of your AC unit should in fact be beneficial. When the heat from the schorching Mesa, Arizona sun becomes too much to bear, using your AC unit in a responsible way can literally be a life-saver.
Do Air-conditioned Rooms Make Us Sick?
When it comes to HVAC units, efficiency and cost-effectiveness might be the first two aspects to spring to mind, but we can all agree that our well-being is our top priority. Furthermore, new technology and professionals' expertise pretty much have the first two covered, but what about health and safety?
Although there's no such thing as AC allergy, a poorly maintained air-conditioner and its likely effects (headache, nasal congestion, fatigue, shortness of breath) can make you regret being negligent.
You might develop the so-called Sick Building Syndrome. Your unit's lack of maintenance can lead to it becoming a proper breeding ground and safe haven for microorganisms. These may have a detrimental effect on you, depending on your sensitivity. Regular maintenance, however, solves this problem so you can cool off and relax without concern.
Filter out the Bad
Trust us, you want to give those filters regular and thorough cleaning. The moisture and condensation generated by air-conditioning must be efficiently removed by the unit so as not to affect the air quality in your room but let you inhale clean air. When properly maintained and used, your AC unit should filter out the welter of contaminants that modern urban living carries.
On a related note, regularly wash the carpets, at least the bedroom ones, as they trap allergens, especially without fresh air circulation.
Having a pet is an another reason to clean the filters regularly, as in addition to harmful bacteria, funghi, dust mites, pollen and chemicals, your pet's hair and dander might get trapped in there as well. The air you and your family then breathe can only exacerbate your allergy's symptoms. Cleaning your filters regularly is therefore a must. You might do this by yourself or simply leave it to the professionals.
Solution for all Air Conditioning Issues in Mesa, AZ
Hughes Air Conditioning, Heating & Cooling has a 3-decades strong experience with AC-related issues. We have helped countless customers keep their homes and premises comfortably cool and ensured they have a supply of fresh and healthy air. We can do the same for you! Whether it's installation, repair or an AC upgrade, we're the go-to HVAC contractor in Mesa, AZ! Contact us today!